Whether you're a big e-commerce business or a micro online entrepreneur, your ultimate goal should be customer satisfaction. Why? Simple. Customer satisfaction can lead to more repeat business, free marketing through word of mouth, increased sales, and better profits! Awesome right?
So how do you go about making your customers happy without having actual contact with them? Fortunately, even online businesses have several ways to delight their customers. And creating some fun and unique custom package inserts are one of those strategies we want to cover today.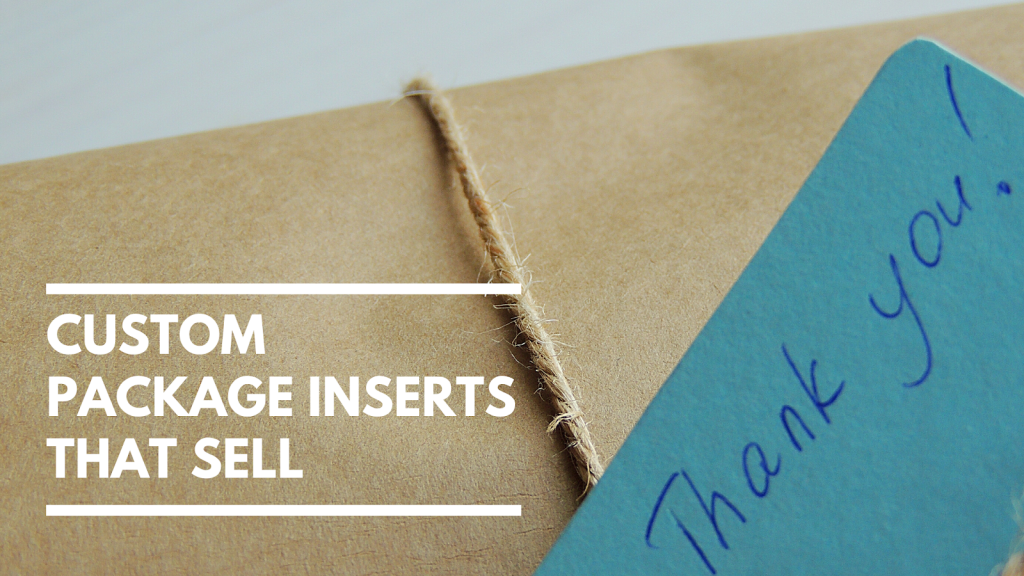 Why include package inserts on your products?
Package inserts encourage brand loyalty. Through simple package inserts, you can make your customers feel valued and let them know that you care. Having a personal touch to engage your buyers with each and every order can go a long way.
Package inserts get noticed immediately. Package inserts can come as a surprise to your customers when unboxing your products. And who doesn't love surprises, right? So they get noticed for sure, and can definitely leave a very long-lasting impression on your customers. Repeat orders, anyone?
Costs little to nothing to add to your product's packaging. As initially mentioned, package inserts can mean a lot to your customers. Adding a small card with a personalized message is all it takes to make an awesome impression on your customers. The other thing that really makes it better for you is that they cost VERY LITTLE to almost nothing! They won't add a single dime to your overall shipping costs either.
One size fits all. If you have several online products, you don't have to have different inserts for them at all. You can even actually use the same inserts across all of your products. No hassle at all!
Highly customizable. Just like product packaging, you can customize your package inserts too. If you're not really keen on the simple business card-like inserts, you can consider another format like a bookmark that can be used over and over again. And if you've ever walked around a coffee shop or tech incubator, you'll know that sticker marketing is far from dead! What's great for your brand awareness is that your customer gets reminded about your company every time they use your bookmark package insert or open their laptop next to a piping-hot latte! Isn't it incredible?
I hope you're now more than convinced that package inserts can mean so much for your business if done right. So how do you create package inserts that sell?
Offer discounts.

Offering something of value to your customers like free shipping or a discount on their next purchase is the most common message package inserts contain. Why? It's because customers like something that would benefit them. So a discount on their next product would be great.

Politely request for honest feedback on the service or product.

Social proof has been an important part of every e-commerce business's success. This is why most online businesses work hard to get reviews and feedback. A polite request on your package insert can turn into an honest and legit review of your product. Customers like it when their voices are being valued.

Customize.

As mentioned above, package inserts are highly customizable. Your imagination and creativity is the limit. So when creating your package inserts, think like your customers. What is it that they would like? What are your customers like? From that point, you would be able to come up with an insert that can delight your customers.

Include a list of items on special sale.

If you have products that are on special sale, you can include them on the package inserts of related products. By doing this, you are able to target customers that are likely to make another purchase especially if your offer is tempting enough.

Offer a shareable discount.

Word of mouth has been one of the most effective marketing tactics ever since. Happy customers tend to share the news with their family, peers, colleagues, etc. Why not make it even more effective with a discount for each of them?

Offer product samples.
Have new products to launch? Let your existing customers test them out for you!
Keep in mind that happy customers are LOYAL customers! Start making your customers happier TODAY! Good luck!